Be the Change!!

Youth Letter Writing Initiative

 I am an African-American mother of a young lady, age nine, and a young man, age seven. I have recently been reading books such as Just Mercy by Bryan Stevenson, The Sun does Shine by  Anthony Ray Hinton, Devil in the Grove by Gilbert King, and others as well as watching films such as the PBS documentary on the Central Park 5 by filmmakers Ken Burns and the Hidden Colors docuseries directed by Tariq Nasheed. If I'm honest, I am terrified of raising my children in our America with the justice system the way that it is. However, fear does not bring about changeactions do! So I intend to begin a youth letter-writing initiative– because It's not about RACE it's about JUSTICE!!
The idea was birthed in a parent-child PTO sponsored book club meeting at Flynn Park Elementary School in University City, Missouri. We were reading Standing Up for Civil Rights in St. Louis by Amanda Doyle and Melanie Adams, a book about the civil rights leaders and movements in St Louis, Missouri. In the meeting, we let the kids talk about the book and their ideas of justice, right and wrong and their individual experiences with racism/injustice/inequality. We the parents, talked about how to best bring up the race issue with our kids. Then it hit me– we need to change our thinking. Rather than asking how we can best talk to our kids, we need to start asking how we can let our kids know that their voices are valued and that they can talk to us! We then joined the two groups together and the kids began telling us their thoughts on justice. We brought up specific cases and incidences like Trayvon Martin and Mike Brown and then cases where white offenders and/or police were not punished and went home alive and well. These kids had much to say!  We went on to discuss how children as young as eight can be tried and convicted as adults and placed in adult prisons.  These children were livid pondering 'how can a "jury of your peers" as an underdeveloped child justly be 12 full grown adults?'… good question!
Then it hit me. That there should be a program where we teach kids about cases and the subsequent laws that they will one day have to abide by and then have them write letters of support to the juveniles seeking justice in jail to show support and also  to the politicians and lawmakers demanding an explanation as to why that laws and justice are not equally distributed. The fact is, if you can't explain your laws so that even a young adolescent can understand it, it does not make sense and the law should be changed to one that is just and fair.
I have many in my community ready to see this program take flight and possibly (hopefully) become a national youth campaign demanding attention from lawmakers. This is their world, the children. The least we can do, as the adults, is to be their advocate and stand with them to make their future brighter.
If you want to help, please send your information to: patchworktheory.llc@gmail.com
T-shirt available through the Gift Shop*
The Conversation
Far too often, people will talk about the problems of inequality, injustice, racism, politics, and the state of the world, but equally as often nothing is done about the problems. I have discovered that people really do want to talk about the issues plaguing the world but want to do so in a safe and judgment free environment. Races will talk about each other, but how often do they really sit down and talk TO each other? If WE are going to fix the problems, we have to be willing to hear all sides and work together. Hatred comes from fear and fear from lack of understanding. Let's seek to understand each other. It's not about RACE…It's about RIGHT. Join me for this much needed guided dialogue as we discuss everything from education to employment, health to heredity, history to housing, economics to politics and everything in between.  Sign up for the email list and be alerted of meeting dates, times and locations. Also, be the first to find out when the online live web forum launches!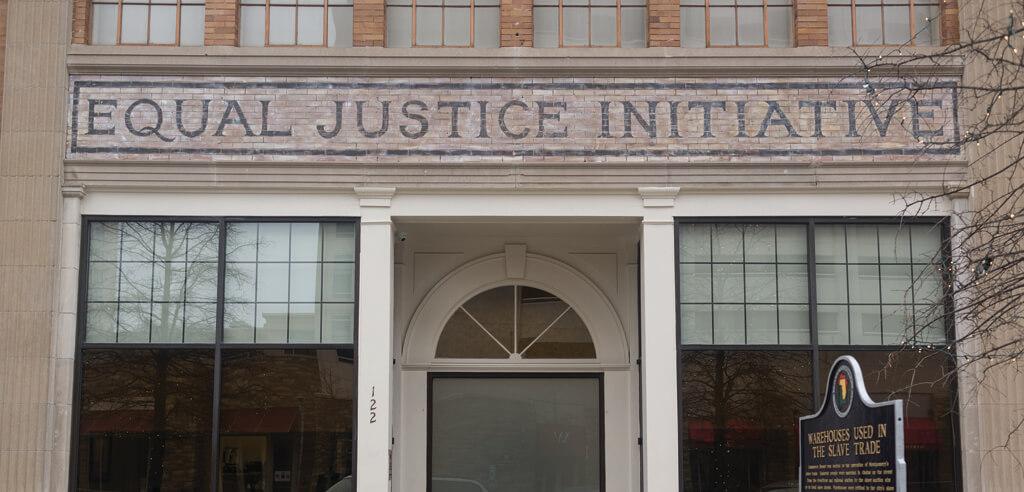 The Equal Justice Initiative is committed to ending mass incarceration and excessive punishment in the United States, to challenging racial and economic injustice, and to protecting basic human rights for the most vulnerable people in American society.
Founded in 1989 by Bryan Stevenson, a widely acclaimed public interest lawyer and bestselling author of Just Mercy, EJI is a private, 501(c)(3) nonprofit organization that provides legal representation to people who have been illegally convicted, unfairly sentenced, or abused in state jails and prisons. We challenge the death penalty and excessive punishment and we provide re-entry assistance to formerly incarcerated people.
EJI works with communities that have been marginalized by poverty and discouraged by unequal treatment. We are committed to changing the narrative about race in America. EJI produces groundbreaking reports, an award-winning wall calendar, and short films that explore our nation's history of racial injustice, and we recently launched an ambitious national effort to create new spaces, markers, and memorials that address the legacy of slavery, lynching, and racial segregation, which shapes many issues today.
EJI provides research and recommendations to assist advocates and policymakers in the critically important work of criminal justice reform. We publish reports, discussion guides, and other educational materials, and our staff conduct educational tours and presentations for thousands of students, teachers, faith leaders, professional associations, community groups, and international visitors every year.
Visit site at : https://eji.org/
Donate
https://donatenow.networkforgood.org/eji
Your contribution is critical to our efforts to challenge poverty and racial injustice, advocate for equal treatment in the criminal justice system, and create hope for marginalized communities.
Contributions are tax deductible to the extent allowed by law and do not represent payment for goods or services received. We never sell, trade, or publish a donor's personal information.
To donate by phone, call Andrea Martin at 334-269-1803; or mail donations to 122 Commerce St., Montgomery, AL 36104.
Coming Soon!
We Hold These Truths to be Self Evident
This book is and anthological look at the laws in the United states that were written using very inclusive words and how they were never intended to serve "all men".  Laws that outdate any living person have been upheld for centuries despite their obvious racial biases. Every word of every national song, amendment, major declaration and law is dripping with a rich history… rich being the operative word. This is not a book of conspiracy, the fact of the matter is, these laws that we follow were laws of the elite club that only by blood, sweat, war, death and time have many (but not all)  been able to benefit and have the privilege of being allowed in from the rain and under the political umbrella. From out in the rain, we hold these truths to be self evident that all men were not created equal in the eyes of the law.